NBC deals with issue on show "EXTRA"
---
You can completely trust Pass4sure ccnp certification latest video lectures and updated Pass 4Sure 640-461 audio guide which are smartest products for the Cisco Introducing Cisco Voice and Unified Communications CCNA Voice exam prep.
---
On May 24th, 1999 and again on May 30th, the nationally syndicated show "EXTRA" dealt with adult thumb sucking in America. The producer, Marilyn Zielinski, started the ball rolling through an e-mail sent to me:
Subject: the media Date: Mon, 22 Mar 1999 14:43:48 EST
From: Shennaz@xxxx.xxx.xxx
To: thumbsuc@slip.net
Hi, I'm a producer with the television show EXTRA, and I'm working on a piece on adult thumb-sucking. In case you're unfamiliar with the show, EXTRA is a national, daily newsmagazine show, produced by TIME-Warner, now in its fifth season. We're syndicated, so we air on different channels, and at different times, all over the country, but we're most often on NBC in the early evening.
I've been fascinated by the topic of adult thumb-sucking for several years; I have a close friend whose mom sucked her thumb, and it was really a challenge for my friend to deal with, growing up. Her story provoked me to look a little more deeply into adult thumb-sucking, and your site captures the essence of what intrigues me: why is a harmless, and apparently effective, coping strategy so weighted with embarrassment and social disapproval? And why do some adults continue to suck their thumbs, long after most people have stopped?
I'd love to talk to you about this, and I'm hoping you'll be interested, too. Thanks for your time- I hope to hear back soon! Marilyn Zielinski
---
After several e-mails, back and forth, and after announcing her plans on the bulletin board at the site, Marilyn was ready to start shooting. Three people, Tony Turner, Amy Wise and yours truly were interviewed and filmed and, to an estimated audience numbering some 3 million people, the world soon found out that thumb sucking among adults is not nearly as rare as previously conceived. Here, with some deletions (in order to fulfill the guidelines required by Time-Warner), is a summation, with photos, of that show, in which Jaime Colby was the reporter sent out to meet and interview each of us.
For a link to the EXTRA Website click here.
---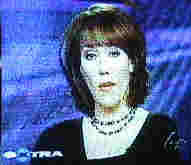 <-Maureen O'Boyle, the announcer on "EXTRA".
"Thumb-Sucking Adults?
"This story is about something you have probably never seen before: Adults who suck their thumbs! As difficult as it is for them to talk about it, the people EXTRA talked with are speaking in hopes of spreading awareness and demystifying their unusual habit. A 2nd grade teacher from Indiana has a dark secret. He told EXTRA:
"'I didn't want to be ridiculed...'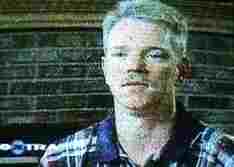 "So does a 30-year-old office manager from Los Angeles, and she said: "We're just people. We just want to be loved."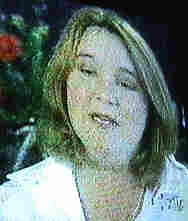 "And a 48-year-old . . . from New York [who] wouldn't be seen without a disguise. Why?
"'I don't want people who know me to associate me... with what I'm about to divulge today.'"
"It's a form of meditation, if you will, it's a relaxation behavior, and it's really not understood by the public."
"What all of these people are about to divulge is embarrassing, these grown-ups still suck their thumbs -- And they can't stop.
"At home, at work and even in the car! It doesn't matter where or when, the urge to insert thumb in mouth is overwhelming. Kind of sucks, huh?
"What's painful about it?
"Tony told EXTRA: 'Knowing people don't accept it.' Thirtynine year-old Tony Turner says he's been sucking his thumb for as long as he can remember, and for just as long he's tried everything to quit. "'I'd wrap my thumbs, I've worn gloves to bed, I've tried the hot ointment on the thumbs and even later in life went to hypnosis....' None of it worked ...and though the unusual practice does draw stares. Tony's wife Mary has learned to thumb her nose at the finger-pointers: 'I just see it as a natural thing that he does so it doesn't bother me.'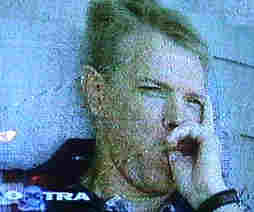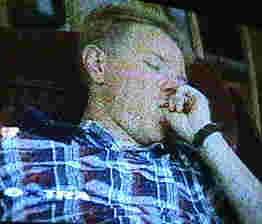 "But what about Tony's kids, 8-year-old Andrew and 13-year-old Joseph? 'I don't really care that he sucks his thumb. It's just his habit.'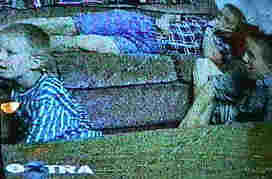 "It's a habit Tony shares with a man thousands of miles away in New York. "Theo" -- not his real name -- Is now trying to reach out and touch others with his thumb via a website (www.thumbsuckingadults.com) dedicated to adult thumb-suckers: [Hip Hip Hooray!]
"'I'm getting between 400 and 600 hits a week.' [Note from Webmaster: since EXTRA, the average has increased to 800/week with a high of 4611 the week of the show.]
"Indeed, there are lots of 'suckers' out there, although there are no statistics as to exactly how many. So why are these adults sucking their thumbs?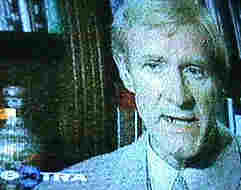 "'It provides oral gratification, it provides soothing.'
"Psychiatrist Dr. Joseph Haraszti, who's counseled adult thumbsuckers, says this finger fixation is not an obsessive behavior. "It's more of an addiction - like cigarette smoking. I think it has to do with a much more basic need. I don't think we should be judgmental. There's a lot of social stigma. Society tends to be judgmental with anything they don't understand."
"Amy Wise agrees: To me it's like twirling your hair, that's what it is. Would you try to stop twirling your hair?'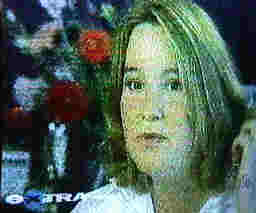 "Unlike our other subjects, Amy is "out" to everybody who knows her... even at work! Amy's "rule of thumb?" Don't question it ...just accept it. 'To me it's just a little habit and its not something I ever felt a need to stop doing.'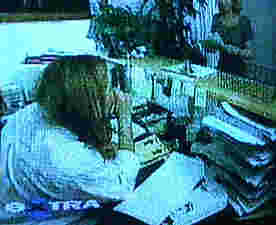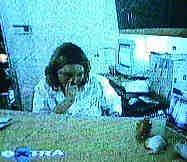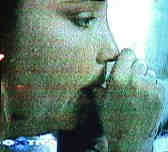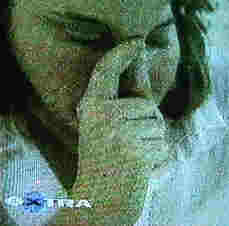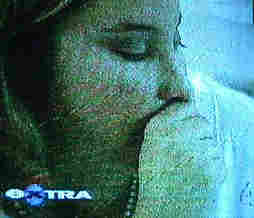 [When asked about it, one of Amy's co-workers said the following:]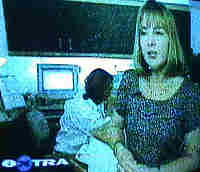 "'I just sort of got used to it and then kind of envied her and wished I could suck my thumb once in awhile.'
[In closing, Tony was asked by Jaime Colby, the reporter doing the interviews:]
"'So Tony, are you going to be the talk of the teacher's lounge tomorrow?
"There'd be some talk in the teacher's lounge, but if they have a problem with it, it's their problem."
---
Epilogue
Tony had taken some risks by exposing himself on TV like he had. We all did. Unfortunately, his came with some real costs. In his words:
For anyone wishing to know, I did get some backlash. This new school year has already seen 5 inquiries and 1 student being taken out of my class because of my interview and admittance. Parents are concerned and one even said I was weird. What's funny is that I taught her older son a couple of years back was a "great teacher" then. Now, all of a sudden, I'm "weird". People are funny. Like I said before, They have the problem.
There were questions raised about why anyone would appear on this show, to risk reputation and, perhaps, more by doing so. Tony answered this question at the Forum in a very eloquent way, below:
The reason I let my personal side show was in hopes that it might help someone who had the same feelings I had. I was taking a risk and I am not ashamed of taking it.
I was given a reading about risks and I would like to share it with you.
To laugh is to risk appearing the fool.
To weep is to risk appearing sentimental.
To reach out to another is to risk involvement.
To express feelings is to risk exposing your true self.
To place your ideas, your dreams before the crowd, is to risk their loss.
To love is to risk not being loved in return.
To live is to risk dying.
To hope is to risk despair.
To try is to risk failure but risks must be taken because the greatest hazard in life is to risk nothing. The person who risks nothing, does nothing, has nothing and is nothing. He may avoid suffering and sorrow, but he simply cannot learn, feel change, grow love, live. Only a person who risks is free. A one minute and 27 second clip on the Extra show may bring out the crazy ones and the ones who will never understand, but if I have helped one who was feeling bad because of their t-sucking then I have accomplished what I set out to do.
Tony
---
Comments? Questions? E-Mail me.