Ya Gotta Have a Sense of Humor
---
Plenty of effective products are available at Test King. Pass4sure itil certification updated dumps and CCNA Voice Introducing Cisco Voice and Unified Communications Cisco from Pass4sures online audio guide can certainly give you greatest time in exam.
---
Let's break tradition here and include a photo. Here's an example of a youngster teaching some tricks to the old dogs, not that they're that old, but to the baby, well....
---
Like to Suck your thumb?
Confection Package Design
A design patent for a novel way to satisfy your childhood urge to suck your thumb.
patent D301,835
Issued: June 27, 1989
Inventors: Jeffrey Gorman and Marilyn Katz, Los Angeles, CA
---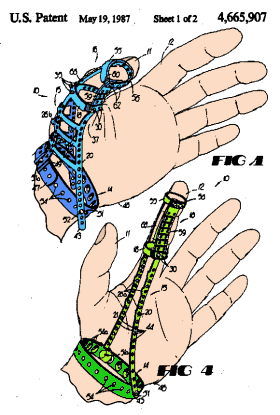 <Patent Number 4,665,907 May 19, 1987, Sucking Inhibitor
Can you believe this?????????
---

---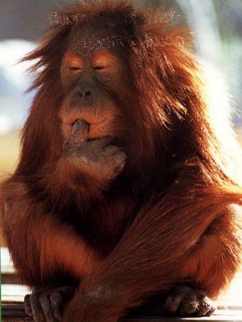 Who says it's not natural?
And this article, relating the need amongst our "animal" brethrens, appeared in the Washington Post, Animal Doctor:
ANIMAL DOCTOR
Tuesday, January 15, 2002; Page C10
Dear Dr. Fox: I got my cat Minerva when she was approximately 6 weeks old. She's now 6 months old, and we have bonded very well, indeed. In fact, I believe she considers me her "mama cat," because, as a tiny kitten, she would make nursing motions on my arm, sucking and kneading her paws. When my vet told me not to encourage this behavior, I would gently remove her from whatever part of me she was sucking on. Soon she stopped doing it. Now she curls up and sucks on the tip of her tail instead. Should I be concerned about this behavior, too? S.P., Madera, Calif.
Answer:
Kittens will nurse for several weeks, and your Minerva was probably weaned too soon. Early weaning can result in a persistent oral craving to nurse later in life, probably more out of a feeling of insecurity and a need for maternal contact than for food. If you don't mind Minerva's kneading and sucking on your arm, ear, or skirt when she wants to be close, then why not allow her to feel close, secure and loved? The alternative, as is often the case, is a cat who sucks her tail, front paw, or the corner of a towel or blanket.
Sometimes cats grow out of this behavior, but I feel that it may be better for your cat's psyche to let her cuddle and nurse on your arm than to have her look for comfort by sucking on her own tail. People who think this behavior is perverse should take the blinders off their eyes and reflect on the behaviors they themselves engage in to achieve some comfort level through self-gratification.
---
A little boy gets up to go to the bathroom in the middle of the night. As he passes his parent's bedroom he peeks in through the keyhole. He watches for a moment, then continues on down the hallway, saying to himself, "Boy, and she gets mad at me for sucking my thumb?"
Illustration of above joke: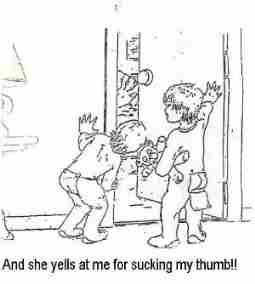 ---