In Advertising
---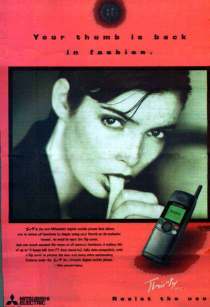 Your Thumb Is Back In Fashion.
The caption reads,
"Thirty is the new Mitsubishi digital mobile phone that allows you to access all functions by simply using your thumb on its exclusive 'mouse', no need to open the flip cover. Just one touch accesses the menu or all memory functions. A battery life of up to '4 hours talk time..."blah, blah.
You get the point. Hey, if you're a thumb sucker, you'll definately want this phone, if for no other reason than they're trying to make it respectable.
---