Thumb Sucking Celebrities, Part Four
---
---
The entertainer below had, in the 1980's issued the following promotional material. If anyone has any more details about this entertainer, please mail me about it. In the first photo, you'll see a poster of Renaud au Zenith when he was younger.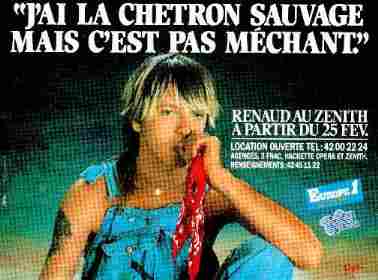 ---
TTS!
from the desk of Shirley Rodell-Szyzmyjec
SPORTS EXTRA
Origin from from a site called thestranger.com. To see the actual article click here.
THANKS TO JOHN AT johnb24_00@yahoo.com for this contribution
PUBLIC THUMBSUCKING!
Which pal of J. Mascis was seen suckin' her thumb at the Cha Cha lounge? Miss Tiffany Anders [a singer/songwriter]! Some background: Tiff played the Croc Thurs 6/3 with J., but the two go back a long way. Her mom, Famous Movie Director Allison Anders, gave both J. and Tiff small parts in 1992's excellent Gas Food Lodging; and as early as 1993, Tiff sang on Dinosaur Jr.'s CD Where You Been? (She's also worked w/Mike Watt and Up Records labelmate Mike Johnson.) In '96 J. cameo'd in, and Tiff sang soundtrack for, Allison's maudlin piece o' music-biz tripe, Grace of my Heart. Tiff's 1998 Up CD Runnin' from No Place to Nowhere, sounds enough like Dinosaur Jr. to be called "derivative." Anyhoo, girl sucks her thumb.
Note, if anyone can find a photo of Miss Tiffany Anders tsing, send it to me, please.
---