Thumb Sucking Celebrities, Part Two
---
Cut down your exam stress through Cisco CCNA Voice ccna training latest engine and Pass4Sure Cisco 640-461 CCNA Voice latest audio lectures.
---
Andie MacDowell (Actress)
To see what films she's been in click here.
<Just in case you forgot who she is.
---
Nina Hagen (check out the interview she did in Chatter Magazine, below)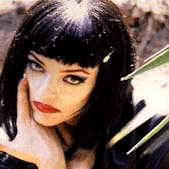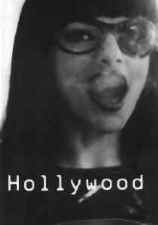 <No photos of her tsing, but catch the interview below. If anyone finds a photo, please send it over to me.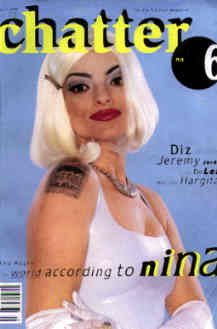 Partial transcript of an interview of Nina Hagen, singer, songwriter of the Nina Hagen Band. Interview by Michael Roche
Photos by Lucas Muehlenweg From Chatter Magazine
MR: I know you've been sucking your thumb for many, many years. What's that about?
NH: When I was little I sucked my thumb and then later when my teeth came. When I became an adult I was still sucking my thumb, occasionally. Here and then, there and that. So my teeth, they go a little up and down.
MR: When did you stop sucking your thumb?
NH: I never did.
MR: You're still sucking your thumb?
NH: Occasionally, here and then, I guess. But not as much as I used to. Especially after India. I found another thumb, which is called Kriya-Yoga.
MR: And what's that about?
NH: Well, that's a very old technique of these old yogis there in the Himalaya. They rejuvenate through breathing. Breathing a certain way every morning, and then they go straight to Nirvana. they stay there for awhile, it's also called "rebirthing." But in India they call it Kriya-Yoga since the old times. So it's like the natural way of being who we are supposed to be.
---
Brooke Shields
Apparently, Brooke decided to make fun of a fellow actor while doing a stint on a TV show. I don't have all the details, but if I ever get them I'll tell you about it.
---
Andrea Corr
Found! Two non-posed photos of Andrea sucking her thumb! Write Me to get them.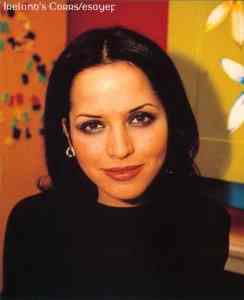 These photos are of the lead singer, Andrea Corr, of the Irish group, "The Corrs", a family union of talented musicians and singers. The one on the right was obtained in September of 2000 and displays Andrea boldly exhibiting her habit, a first for the public as far as I can tell.Due to copyright restrictions, I can't yet post two other photos I have in my possession but there's another site on the Net not concerned about such restrictions. Click here to see the photos and a statement about her admissions. If you'd like to read what others have said about these photos, click here. There are also numerous eye witness accounts as well as her own published admissions. Below you'll find some items published on the Internet that should convince you that this isn't some sort of publicity stunt.
<<The Family posing for a cover shot. Andrea is on the bottom right of the photograph.
---
The Evidence:
---
An Interview with Andrea Corr about her thumbsucking!
Source: Steppin' Out Magazine, September 1999
Interviewer: I read that you suck your thumb. Is that true?
Andrea: Yes.
Interviewer: Is that because you are insecure?
Andrea: It's something that I did since I was a baby. So I've done it my whole life. I really never had a reason for giving it up and my mother didn't make me stop. Also, sucking my thumb comforts me. It helps me fall asleep. If I get tired the first thing I do is put my thumb in my mouth. But I don't think it's because I am insecure. It's just very comforting and I love it. I can't give it up.
Interviewer: Has anyone tried to break you out of the habit since you're obviously not a baby anymore?
Andrea: Oh, my God! I've had people pull my thumb out of my mouth.
Interviewer: Try putting Tabasco sauce on your thumb. That usually does the trick.
Andrea: Why? It's not like I want to stop.
Sharon: It's not like it's bad for you.
Andrea: [Laughs] Well actually, I have broken a few nails!
---
Interviewer: Any strange habits when you were little?
Caroline Corr: Andrea still sucks her thumb... and in public!
---
From "The Coors" by Caroline Coor
Name: Andrea Jane Corr
DOB :17th May 1974
POB :Dundalk,Co.Louth,Ireland
Parents: Jean & Gerry Corr
Sign :Taurus(Wood Tiger)
Height :5'1/1.55m
Weight :45kg/99lbs
Eyes :Hazel
Hair :Black

Doesn't have a driving licence and wears glasses/contacts.Plays the tin whistle (cos it's cheap and she loses everything)and does the lead vocals.Currently single.Hasn't had a boyfriend in two years. Has said that she cannot live without her 'thumb' (she still sucks her thumb).
---
REVIEWS - CLOSE ENCOUNTERS
by: Carl Jay del Rosario
AN "ACCIDENTAL" AFFAIR
My Hour with Andrea Corr

To Andrea, a friend...
(This story is abridged to focus on the subject pertinent to the adult thumb sucking site.)
I didn't know who the woman with the pretty face was. If she was a Corr look-alike, I didn't know who she was impersonating; likewise, if she was a Corr I didn't know who she was. Of course, I knew the names -- Sharon, Caroline, and Andrea -- but at that time
I couldn't associate them with their faces for two reasons. One was because I was just a new fan, and the other was I thought they all look alike anyway (so back home, though I liked their songs, I wasn't concerned about matching the names and faces). She took her seat, buckled up, threw her boarding pass in the front seat pocket, closed her eyes, and sucked her thumb!

Darn! Just when I was about to ask her who she was, she sucks her thumb (as if telling me "Go suck a thumb too!!!")!!! At least my heart stop pounding a little, and my gut, which a few moments earlier was feeling the agony of a peach in a smoothy machine, was partially made at ease. I knew that I could reserve my question later, but when? I needed a sign that I could already make the "kill", just like what Meg Ryan needed in Sleepless in Seattle. I thought that I had to be prepared just in case she was really a Corr, so I took out a postcard (which I had earlier bought at the Eugene Airport) and pen and placed both of them in my faithful maroon passport bag.

The plane took off at 10:30 AM. The altitude was something like twenty thousand feet. Fifteen or twenty minutes had already passed since the attempt on the ground. The flight attendant was already serving coffee and tea. A brilliant idea suddenly flashed in my mind like I was the "coyote" chasing the "roadrunner," only that I didn't know if the woman beside me was really the "roadrunner." However, I was certain that I was the "coyote" so I kept my eyes and ears open, which I didn't mind doing because it seemed that the woman beside me was sleeping. She would occasionally open her eyes, look outside the window in-between rows 12 and 13, and even at one point tried to fix the vent of the airconditioner. But I really thought she was sleeping all the while.

When the flight attendant reached our place the fourth and last suspect suddenly opened her eyes (it turned out she wasn't sleeping at all, probably just "trying" to catch some Z's) and asked for... guess what...tea... a sign from the heavens! Immediately after asking for coffee I intended to do the "kill." I couldn't in my devilish conscience allow her to try the same "Hey-can't-you-see-I'm-sleeping" trick on me. That's when my ribs caved in on my pounding heart and my gut had totally liquefied.

She looked outside the window once more, only this time through "my" window. She saw me practically staring at her, and so she probably thought it would be polite to give a casual but "quick" smile. And so she did.

"I hope you don't my asking, but are you a Corr?" I nervously asked.

She looked serious to begin with, her lips were motionless and her teeth didn't show. But when she heard "Corr" there was a complete transformation. Her eyes twinkled and she gave me the biggest smile (the best that I've ever seen from a "new" friend), happily asking (in her cute Irish accent)
"Yeah, how did you know?!!!"

"Well, I saw the three others" I said, pointing to row 9 (or 8). "I'm sorry, but you are?" I asked in such silly fashion.
"Andrea Corr, the lead vocalist" she proudly answered.

"Well, I could sign something for you." (Andrea) Everything could have ended there, I mean she could have just said, "Bye" and went back to her thumb-sucking! Honestly that was the "kill" I had in mind, I didn't intend to be some paparazzi or something. But I had to ask her what they were doing in the States, so I did.

"We had a gig (the night before) in San Francisco, and tonight we'll have another one in LA (I didn't exactly hear this -- I think it's Troubador). Tomorrow we'll be flying to Germany (?), so we really have a tight schedule." (Andrea)

Then I told her what my business in the States was, and what I did in the University of Oregon. She didn't seem interested in the details of the conference, so I did not elaborate any further. Anyway, to know that she really was Andrea was all I was after, I thought I had gone far enough. But the conversation would turn out to be a "long" one (trust me on this!), and I owe it all to Andrea who is such a terrific conversationalist!

"I really don't believe in sitting around being self-absorbed. In a situation like this you can share experiences with a person and learn. But really, did you get the impression that I'm self-absorbed?" (Andrea)

"Honestly, yes." (Me)

"When? On TV? Or just now?" giving me a confused (and probably "nearly" offended) look.

"Just now, because you sat there and just closed your eyes (without mentioning her thumb-sucking)!" (Me)

"I was just trying to catch some sleep!" (Andrea)

Andrea was in all black, what seems to be her favourite colour. She was wearing a jacket, a sleeveless blouse, a skirt with black prints of what looked like a leaf, and slippers or sandals. I noticed that she had several earrings on her right ear (one was what I would call an "ear clip"), wore make-up (the silvery-purple eye shadow matched her exceptionally beautiful eyes) and foundation (I really wouldn't know), and without any lipstick (showing naturally remarkable lips). Her nails were just right -- not too long, not too short -- without any nail polish, all highlighting her slender fingers. By the way, her toenails were polished red. Finally, she had shiny jet-black hair (neatly tied) matching her Irish complexion, and perfect teeth.

In Andrea I saw the innocence of a child, one within the profoundness of a woman. She reminds me so much of a kid I once was and the adult I now am. I couldn't forget how she sucked her thumb with so much grace, and you should have seen the look on the face of the woman (who had not the slightest idea who Andrea was or what she was doing) beside her!
---